CATEGORIES : RECREATION : TENNIS
TENNIS
There are two tennis complexes in Incline Village. Please call the listed phone numbers for more information or to reserve court times. Below find local tennis facilities.
IVGID Tennis Complex
964 Incline Way
775.832.1235
Description - Adjacent to the Incline Recreation Center, the IVGID Tennis Complex consists of 7 lighted courts (courts lit by special request only), and offers a wide variety of tennis accessories, a pro shop, ball machine and demo racquet rentals, club activities, snack bar, backboard, one-day stringing service, lessons, junior camps, tournaments, viewing deck, and a beautiful award-winning setting.
Call for fees
Hours of operation-
8am to 5 pm, April 28th through Memorial Day. 8am to 7 pm after Memorial Day. The facility is open from April 28th through early October, weather permitting.
Incline High School
499 Village Boulevard
775.832.4260
The Incline High School tennis facility consists of 4 unlighted courts. Open from May 1, through early October, weather permitting. While open to the public at no charge, there are some restrictions. You will need to bring your own equipment as there are no rentals. Restrictions – The courts are not open to the public during school hours (8 am to 3 pm, Monday through Friday) and during practice and matches (3 pm to 6:30 pm, Monday through Friday).
Driving time and distance – Local.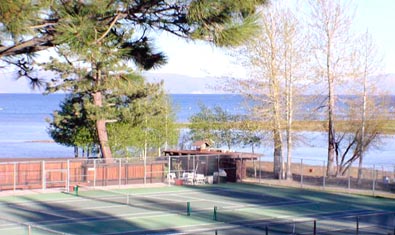 Vacation Station, Inc.
930 Tahoe Boulevard, Suite 703 - Incline Village, NV 89451
Call 800-841-7443
E-Mail: Travel@VacationStation.com
Open Daily 8:30 am to 5:30 pm
Call 800-841-7443
Vacation Station has provided vacation rentals, condos, cabins and ski
leases to satisfied customers in North Lake Tahoe since 1982. We are
located in Incline Village, Nevada close to skiing, beaches, swimming, hiking,
biking, sailing, boating, golf, dining, casino gaming and other types of
recreation. Whether you are buying or selling a home, making vacation
plans, romantic wedding plans or just have questions about activities at
Lake Tahoe, our friendly staff is here to assist you.
Home
Property Selector | Reservations | Testimonials | Hot Deals
Condo Rentals | Cabin Rentals | Home Rentals
Why Vacation Station | Group Accommodations | Lodging Accommodations Experts
Guest Policy | Privacy Policy | Terms of Use | Site Map
Real Estate Sales | Long Term Leases | Seasonal and Ski Leases
Management Services | Our Mission
Visitors Guide | Directions | Local Business Resources A | B - C

Vacation Station is a registered trademark of Vacation Station,
Incorporated, a Nevada corporation. All rights reserved.
Copyright 2001-19 by Vacation Station, Inc.
All rights reserved. Reproduction in any form, in whole or part,
without written permission is strictly prohibited.