CATEGORIES : RECREATION : SAND HARBOR
SAND HARBOR
Sand Harbor State Park
South of Incline Village on Highway 28
775.831.0494
Hours of operation – 8:00 a.m. till 9:00 p.m.
Fees - $3.00 per carload year round except $6.00 for May 1st through August 31st.
Driving time – 8 minutes. Driving distance – 3 miles.
Description – Sand Harbor State Park's natural sand spit was created by geology, wind and wave action. This scenic area has a lovely harbor, plenty of parking, a two lane boat ramp, sand dunes, theatrical stage, sandy cove, huge granite boulders and a lengthy nature boardwalk. We're sure you'll find that the beaches and scenery are incredible. Probably the best beach area at Lake Tahoe.
Home of the Lake Tahoe Shakespeare Festival, this is a great place to swim, walk, snorkel, kayak, boat, picnic, barbeque or just lay out in the sun. Lifeguards are on duty in the summer. There is a large gazebo with plenty of seating and grills, though you must reserve your dates in advance. Also there are plenty of picnic tables and built in barbeques. This beach park is a good value as they charge by the carload instead of per person.
Shakespeare info; 800-74-SHOWS

Dogs are prohibited.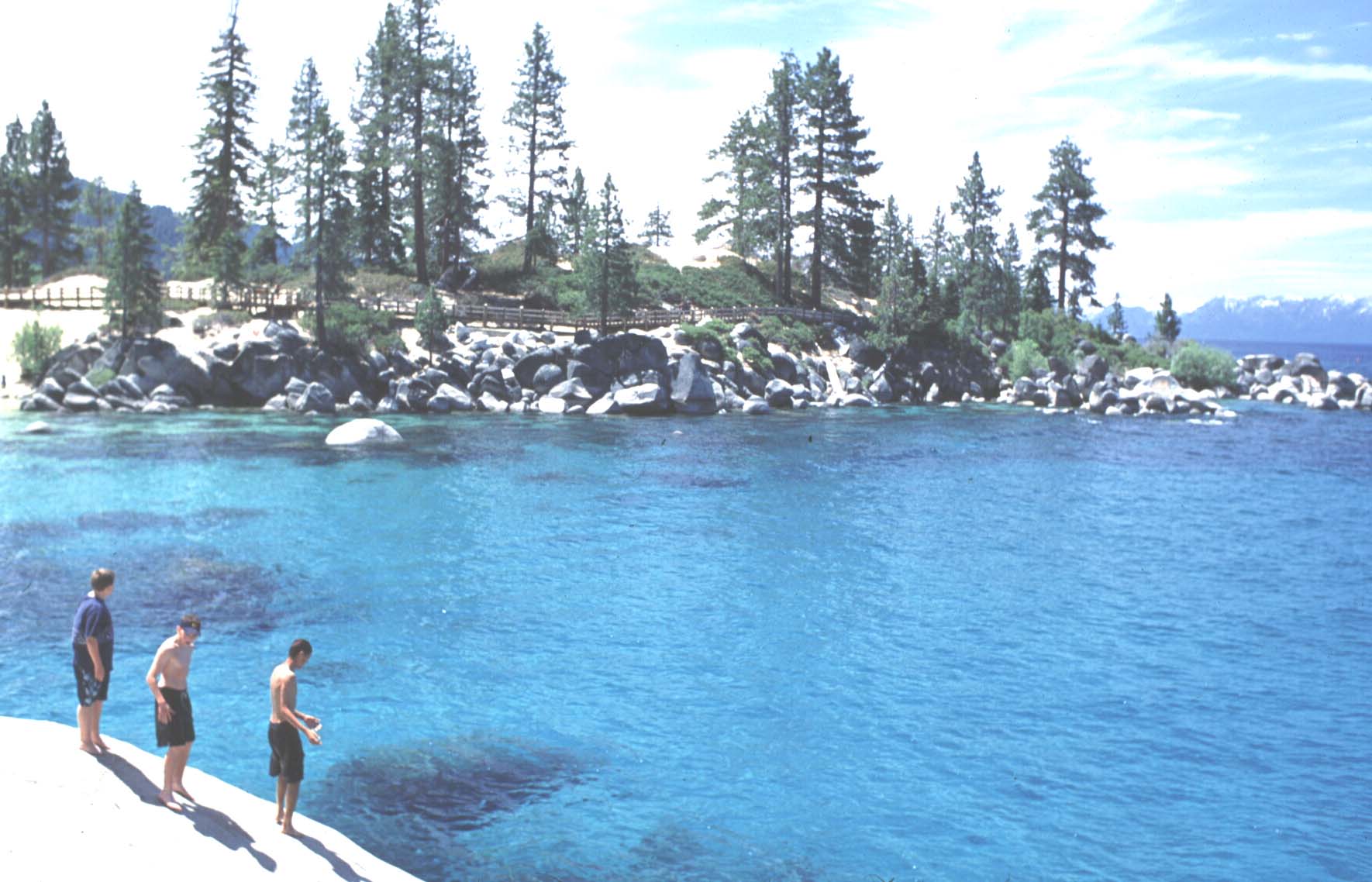 Vacation Station, Inc.
930 Tahoe Boulevard, Suite 703 - Incline Village, NV 89451
Call 800-841-7443
E-Mail: Travel@VacationStation.com
Open Daily 8:30 am to 5:30 pm
Call 800-841-7443
Vacation Station has provided vacation rentals, condos, cabins and ski
leases to satisfied customers in North Lake Tahoe since 1982. We are
located in Incline Village, Nevada close to skiing, beaches, swimming, hiking,
biking, sailing, boating, golf, dining, casino gaming and other types of
recreation. Whether you are buying or selling a home, making vacation
plans, romantic wedding plans or just have questions about activities at
Lake Tahoe, our friendly staff is here to assist you.
Home
Property Selector | Reservations | Testimonials | Hot Deals
Condo Rentals | Cabin Rentals | Home Rentals
Why Vacation Station | Group Accommodations | Lodging Accommodations Experts
Guest Policy | Privacy Policy | Terms of Use | Site Map
Real Estate Sales | Long Term Leases | Seasonal and Ski Leases
Management Services | Our Mission
Visitors Guide | Directions | Local Business Resources A | B - C

Vacation Station is a registered trademark of Vacation Station,
Incorporated, a Nevada corporation. All rights reserved.
Copyright 2001-19 by Vacation Station, Inc.
All rights reserved. Reproduction in any form, in whole or part,
without written permission is strictly prohibited.