Be Our Guest
Book your rental with Vacation Station before May 15 for your stay between July 11 and August 23
and be entered in our drawing to win four free tickets for the Lake Tahoe Shakespeare Festival.
See the details below.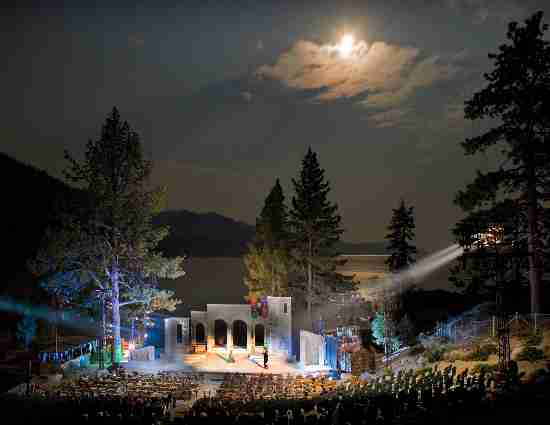 Announcing the 2009 Season of the Lake Tahoe Shakespeare Festival
The Lake Tahoe Shakespeare Festival is excited to unveil its 2009 schedule. This 37th season offers a summer filled with laughter, romance, scheming, scandal, and music. The Festival welcomes Henry Woronicz, former artistic director of Oregon Shakespeare Festival in Ashland, as executive producer. Henry's role, in conjunction with the Festival staff, is to bring the magic of Shakespeare's work to full and vibrant life on stage at the Sand Harbor lakeside theatre.

Shakespeare's dramatic comedy, Measure for Measure will be produced for the first time ever on the white sandy shores of Lake Tahoe at Sand Harbor. This provocative play of political intrigue and moral responsibility will be directed by Carole Healey.

The perennial favorite, Much Ado About Nothing, will be the second Shakespearian production this summer. Directed by Fontaine Syer, this sparkling romantic comedy promises wit and banter, fools and tricksters.

The Festival is in the final stages of booking the wonderful musicians planned for their new Monday night World Music series. Check back with us soon for more information.

Tickets are available now for Much Ado About Nothing and Measure for Measure playing July 11 to August 23. Every seat in the house has a great view of the stage and the awe-inspiring Sierra Nevada backdrop. You can complement your Festival experience with gourmet food and drinks from Shakespeare's Kitchen.
The Vacation Home You Want
Vacation Station rentals are always properly stocked and immaculately clean. Many have amenities such as fireplaces, hot tubs, lake views, game rooms and more. Our friendly and knowledgeable staff take the time to identify your particular desires and make unbiased recommendations. Search our Lake Tahoe Vacation Rentals or preview our Staff Suggestions.


DRAWING DETAILS: All paid and confirmed bookings will be entered automatically into our Lake Tahoe Shakespeare Festival drawing - no enrollment is required. Complimentary tickets are courtesy of Vacation Station and the Lake Tahoe Shakespeare Festival. Seats are general admission beach chairs pre-set in the Lower Gallery. Tickets are valid Monday through Thursday only during your 2009 reservation period. Drawing held and winners notified on May 16th. For additional information, please contact Vacation Station at 800-841-7443.


Vacation Station, Inc.
930 Tahoe Boulevard, Suite 703 - Incline Village, NV 89451
Call 800-841-7443
E-Mail: Travel@VacationStation.com
Open Daily 8:30 am to 5:30 pm
Call 800-841-7443
Vacation Station has provided vacation rentals, condos, cabins and ski
leases to satisfied customers in North Lake Tahoe since 1982. We are
located in Incline Village, Nevada close to skiing, beaches, swimming, hiking,
biking, sailing, boating, golf, dining, casino gaming and other types of
recreation. Whether you are buying or selling a home, making vacation
plans, romantic wedding plans or just have questions about activities at
Lake Tahoe, our friendly staff is here to assist you.
Home
Property Selector | Reservations | Testimonials | Hot Deals
Condo Rentals | Cabin Rentals | Home Rentals
Why Vacation Station | Group Accommodations | Lodging Accommodations Experts
Guest Policy | Privacy Policy | Terms of Use | Site Map
Real Estate Sales | Long Term Leases | Seasonal and Ski Leases
Management Services | Our Mission
Visitors Guide | Directions | Local Business Resources A | B - C

Vacation Station is a registered trademark of Vacation Station,
Incorporated, a Nevada corporation. All rights reserved.
Copyright 2001-22 by Vacation Station, Inc.
All rights reserved. Reproduction in any form, in whole or part,
without written permission is strictly prohibited.